whereeaglesdare.com

the movie

actors

richard burton
Richard Burton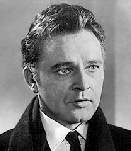 Facts
Occupation: Actor
Birthname: Richard Walter Jenkins, Jr.
Birthdate: November 10, 1925
Birthplace: Pontrhydfen, South Wales
Education: Oxford
Died: August 5, 1984(Celigny, Switzerland)
Character: Major John Smith Biography
In his early career Richard Burton was dogged by the label "promising actor". His brilliant performances, particularly in British stage productions of Shakespeare, never confirmed that promise. During his career critics complained the promise went unfulfilled. But they all agreed, anyway, that his voice was of an extraordinary quality.

Burton was the son of a miner and the 12th and 13 children. We he started school he came under influence from a teacher named Philip Burton, who helped him lose his Welch accent and get in into Oxford at 16. At this time he also made his stage debut, in Druid's Rest. He had now taken his mentor's surname. A serious of minor films followed, which the first on, The Last Days of the Dolwyn, was the best.

Richard Burton's big breakthrough came 1952 with his first Hollywood movie: My Cousin Rachel. It earned him his first of seven Oscar nominations (though he newer won Academy Awards). After a few less successful movies he made a successful return to the stage in the Broadway hit Camelot. While playing in this musical he agreed to take a part in 20th Century-Fox's production of Cleopatra. This movie made him worldfamous, but he also met Elizabeth Taylor. Burton divorced his first wife, to marry Taylor in 1963. The couple were divorced, remarried and divorced for a second time in 1970s.

When Burton's film career hit another low ebb, he returned to Broadway as Dr Dysart in Equus 1976. He was Oscar nominated for the screen version, but it was not a box-office hit. He appeared with Taylor in a stage production of Private Lives, but it was soundly trounced by the critics. His last film role was as O'Brien in a remake of George Orwell's 1984. Selected Films
Last Days of Dolwyn, The - 1949
My Cousin Rachel - 1952
Desert Rats, The - 1953
Robe, The - 1953

Alexander the Great - 1956
Sea Wife - 1957
Look Back in Anger - 1958
Bramble Bush, The - 1960

Longest Day, The - 1962
Cleopatra - 1963
Becket - 1964
Sandpiper, The - 1965

Spy Who Came in From the Cold, The - 1965
Who's Afraid of Virginia Woolf? - 1966
Comedians, The - 1967
Taming of the Shrew, The - 1967

Boom - 1968
Dr Faustus - 1968
Anne of the Thousand Days - 1969
Where Eagles Dare - 1969

Assassination of Trotsky, The - 1972
Massacre in Rome - 1973
Volcano - 1976
Equus - 1977

Wild Geese - 1978
Circle of Two - 1980
Wagner (TV) - 1983
1984 - 1984

Curiosa

His daughter, Kate Burton, is a respected stage actress.
Richard Burton once said: In a film you're a puppet, on a stage you're the boss.
Richard Burton has been nominated for an Academy Award® seven times:
1952 - My Cousin Rachel (Supporting Actor)
1953 - The Robe (Actor)
1964 - Becket (Actor)
1965 - The Spy Who Came In From the Cold (Actor)
1966 - Who's Afraid of Virginia Woolf? (Actor)
1969 - Anne of the Thousand Days (Actor)
1977 - Equus (Actor)
He took his professional name from his former schoolmaster, Philip Burton.
Interred at Protestant Churchyard, Celigny, Switzerland.
Together with Peter O'Toole, he currently holds the record for the most Oscar nominations (7) without a single win.
Spoke Cymraeg (Welsh-language) as mother tongue.
Richard Burton made his debut onstage at Maesteg Town Hall in Wales.
Suffered from acute insomnia.
The twelfth of thirteen children, he insisted that his way out of an impoverished Welsh childhood was due not to acting, but to books; he read one a day.
Links
Web: Richard Burton: The Boy From Pontrhydyfen
Web: Yahoo! Groups: Richard Burton
Article: Richard Burton: The Boy From Pontrhydyfen


User Comments:

Robert Morgan

(2003-10-22)

Hiya, I've just been looking through your great film site. I run a yahoo group dedicated to Richard Burton at http://groups.yahoo.com/group/RichardBurton/ Maybe you would like to put this link on your site? Thanks Robert Morgan

Trevor Moses

(2005-05-16)

Just to add an interesting (well, I think it's interesting, anyway) bit of trivia to your site: Richard Burton's grave is almost diagonally opposite the grave of Alistair MacLean ~ yes, THAT Alistair MacLean.

IAN CORMACK (2011-03-02)

IF BURTONS IN A FILM WATCH IT